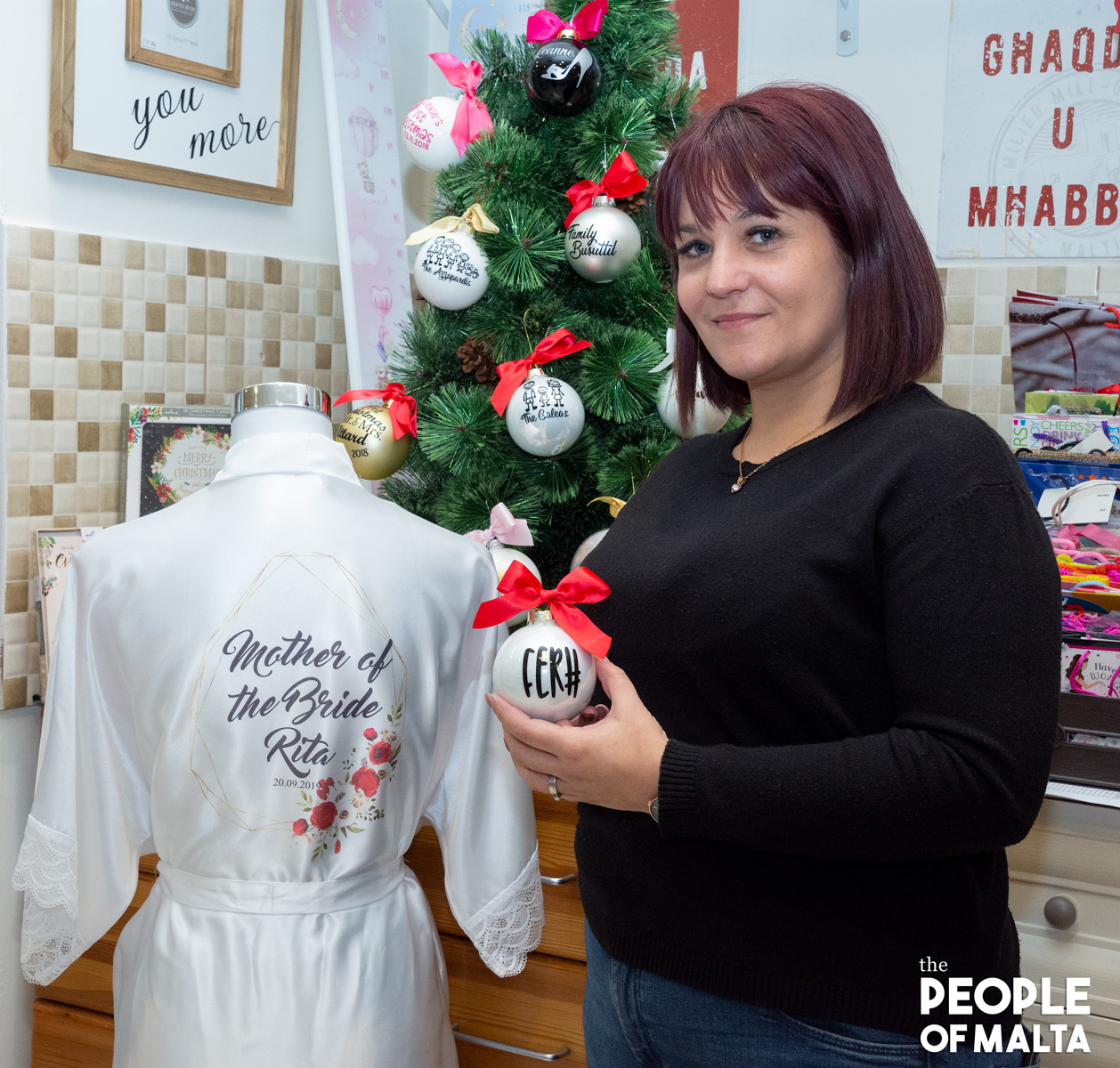 The person behind Creative Glams
"In-nies jiġu jgħiduli xi jridu u jien nimmaġinah lest. Minn meta kont żgħira kont kreattiva. Dejjem middejt idejja biex noħloq affarijiet permezz tal-'crafts'. L-inviti tat-tieġ tiegħi eżempju għamilthom jiena stess. Issa ilni ftit iktar minn 3 snin nagħmel dan ix-xogħol full-time u bdejt minħabba t-tifel li llum għandu erba' snin u nofs. Kont tlaqt mix-xogħol biex nieħu ħsiebu, u waqt li kont id-dar kien qed ikolli ħin li ma nagħmel xejn. U jien persuna li ma nafx noqgħod bi kwieti. Kont nagħmel xi affarijiet għall-ħbieb tiegħi u minn hemm spiċċajt biex illum il-ġurnata armata b'ħanut b'affarijiet li nħobb nagħmel. Ħabiba tiegħi qaltli biex noħloqilha xi spallieri għat-tieġ tagħha u minn hemm bdejt.
F'moħħi nimmaġina kif l-oġġett se jkun minn qabel inlestih. L-isem
Creative Glams hu marbut miegħi, ħadt l-inizjali ta' ismi. Fost il-prodotti l-iktar popolari nista' nsemmi l-baubles – li wieħed jista' jagħmilhom personalizzati u l-'gowns' tal-għarusa. Ħafna mid-disinji u l-kitba nagħmilhom jiena. Għandi passjoni għall-Milied u t-tiġijiet. Narahom żewġ okkażjonijiet li jgħaqqdu wisq lill-familja. L-għaqda hija sabiħa għax iġġib il-ferħ.
Meta nara lin-nies jieħdu pjaċir b'mod partikolari b'dak li nkun għamiltilhom, ikun is-sodisfazzjon tal-ħidma li nkun wettaqt. Hawn ma nħossnix li ġejt għax-xogħol. Ikolli ħafna klijenti li jerġgħu jiġu. L-ewwel għax ordnaw xi ħaġa għat-tieġ tagħhom, imbagħad għax ikollhom it-tfal… L-iktar sfida s'issa kienet li nsib spazju fejn inkun nista' naħdem. Nitfa' ħafna enerġija u passjoni f'xogħli. Il-ħolma tiegħi hija li dak li bdejt inkomplih u ħolma oħra li bdejt naħdem fuqha hija li nniedi il- website tiegħi bil-prodotti kollha biex il-klijenti jinqdew f'iktar kumdita'." – Claudia, Creative Glams
"My clients tell me what they'd like and I already envisage the final product. I've always had this creative streak, ever since I was a young girl. I've always been in love with crafts. For instance, I made my own wedding invitations. I've been doing this work on a full-time basis for 3 years now. It all started with my son, about four and a half years ago. I left work to be with him but there were moments at home when I didn't have anything to do. And I don't know how to stay put. I used to make some things for my friends, now I've set up my own business. A friend of mine asked me to make some wedding hangers for her…and I haven't stopped since.
As soon as I start working on something, I can already imagine how it will look at the end. The name, Creative Glams is linked to my name, I used my name initials. The baubles are one of the most popular products- they can be personalized and the bridal gowns. I make most of the designs myself. I love Christmas and weddings because they're special occasions which bring families and friends together. Gatherings bring such joy and happiness.
One of my greatest satisfactions is seeing customers and clients happy about the products that I have made for them. When I come here, it doesn't feel like I'm coming to work. It's more special than that. Many clients keep coming: first they order something for their wedding, then for their children….so far, my greatest challenge is finding an adequate working space. I dedicate a great deal of my time and energy to this job. My dream is to keep expanding this business and hopefully to launch my own website with all of my products, which would be highly convenient for my customers."
Article thanks to The People of Malta