Back to Listing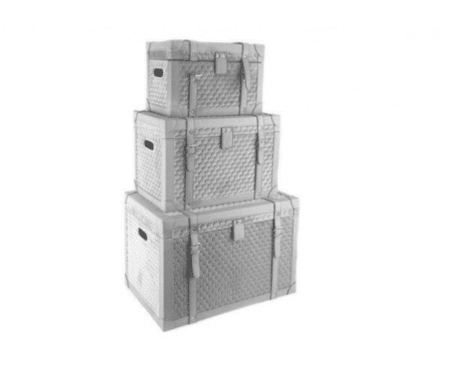 Luxurious Trunk in Leather & Velvet Grey
€ 55.00 starting from
Overview
The trunk is a great addition to the arrangement of a living room, bedroom or youth room.
It can be an ottoman tucked against the sofa, a footrest, as well as a stylish container for storing various things. 
The trunk looks wonderful at the foot of the bed, where it will act as an additional storage space for bedding or your favorite blanket. 
The elegant closure makes it an unusual decoration. 
Perfect for modern and glamor style interiors.
The trunk is a great gift idea.
Material: Velor, eco-leather

Small: 40cm * 25cm * 27cm
Medium: 50cm * 30cm * 35cm

Large: 60cm * 50 cm * 50cm
Delivery
Delivery or pickup available
Malta & Gozo delivery service available only for €5.00