Back to Listing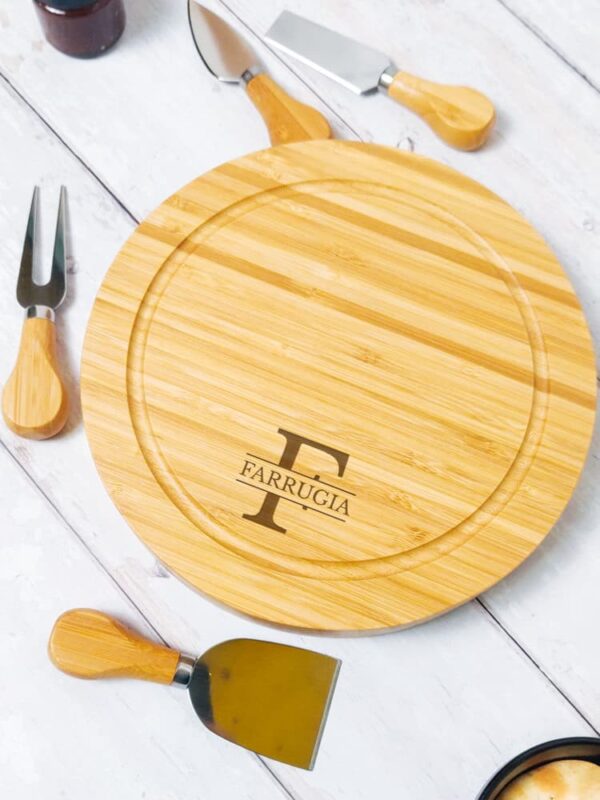 Initial and Name – Bamboo Round Swivel Cheese Board Set
€46.00
Overview
Material:
– Made from natural Bamboo
– Includes 4 cheese knives
– Wood grain and wood colour tone will vary from one chopping board to the other. This is not an imperfection.
– The design is engraved on one (1) face only
– Do not leave soaking in water
– Do not wash in dishwasher.
– Hand wash only with water and soap.
– Dry immediately after wash.
Caring for your chopping board:
Give the chopping board a good scrub with hot soapy water after each use.
Depending on how often you use your chopping board, you should oil regularly to minimise warping and cracking.
Use a mineral oil or other food-grade oil to oil the chopping board
ATTENTION:
New or freshly oiled chopping boards may release some oil over time, so be cautious when placing them on furniture as they might stain.
Do not leave chopping board soaking in water.
Dimensions:
220 x 220 x 35 mm
Delivery
Delivery or pickup available
Malta & Gozo delivery service available only for €5.00