Back to Listing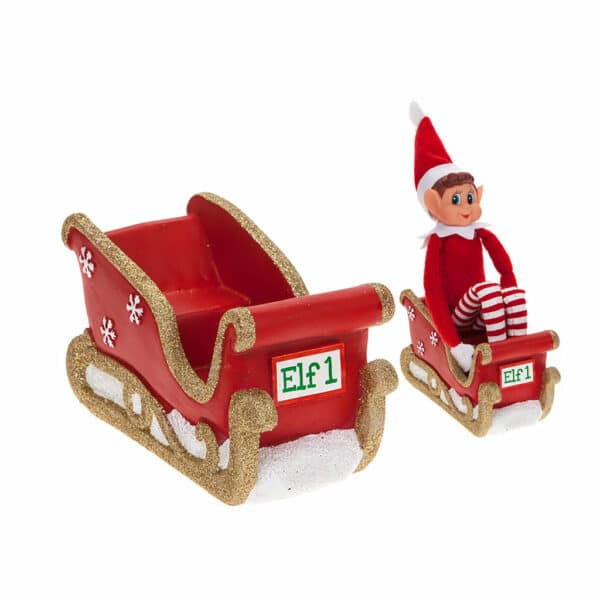 Elves Behavin' Badly – Sleigh
€ 13.99 starting from
Overview
Give your Elves some Magical Transport this Christmas with the Naughty Little Xmas Elf Sleigh from GLOW.
This Bright and Colourful Festive Novelty Elf Sleigh is a great accessory for your Naughty Little Elf, or can be used on its own as amazing addition to your Christmas Decorations this year. The Single Rider Naughty Little Xmas Elf Sleigh from GLOW is the perfect size for Elfie or Elvie to ride back to the North Pole each night to report your little ones behaviour, and be back in time to get up to mischief around your home.
The Naughty Little Xmas Elf Sleigh from GLOW is made from a Tough and Durable Polystone painted in a festive Red colour and finished with either gold or silver glittery trims. Unfortunately, we cannot guarantee which colour your will receive but if you contact us after making your purchase, we will try our best to send the colour you want. This eye-catching decoration and elf accessory also features real working LED Headlights and Rear Tail Lights to help your Elves find their way on those dark winter nights.
The Naughty Little Xmas Elf Sleigh from GLOW also makes a great accessory for our Naughty Little Xmas Elves, Elfie and Elvie. Stuck for idea, why not have your little one wake up one morning to find Elfie has been up to no good while riding his sleigh, knocking things over all around the house?… and where is he? Oh Look, he's crashed into the Laundry Basket.
Dimensions – L17cm x W8cm x H10cm / L7″ x W3″ x H4″ (approx.)
Requires 3 x SR41 Batteries (included)
Delivery
Delivery or pickup available
Malta & Gozo delivery service available only for €5.00